---
This article is reviewed, corrected, and approved by: Dr. Benjamin McLean M.D. | FCPS | FRCP | MPH
A person's mental and physical well-being can be negatively impacted by lack of sleep. Not getting enough sleep can cause issues like fatigue, mood changes, and weakened immunity. But can sleep deprivation cause nausea?
Yes, sleep deprivation can cause nausea. Studies have found that people who don't get enough sleep are more likely to experience nausea and vomiting.
In this interesting article, I will discuss how nausea is caused by sleep deprivation in detail as well as explain the 10 symptoms of sleep deprivation and many more.
Sleep-Deprived Nausea
Getting enough sleep is essential for good health, and not getting enough can cause various harmful effects on the body. One common symptom experienced by individuals who suffer from chronic sleep deprived nausea.
How Can Sleep Deprivation Cause Nausea?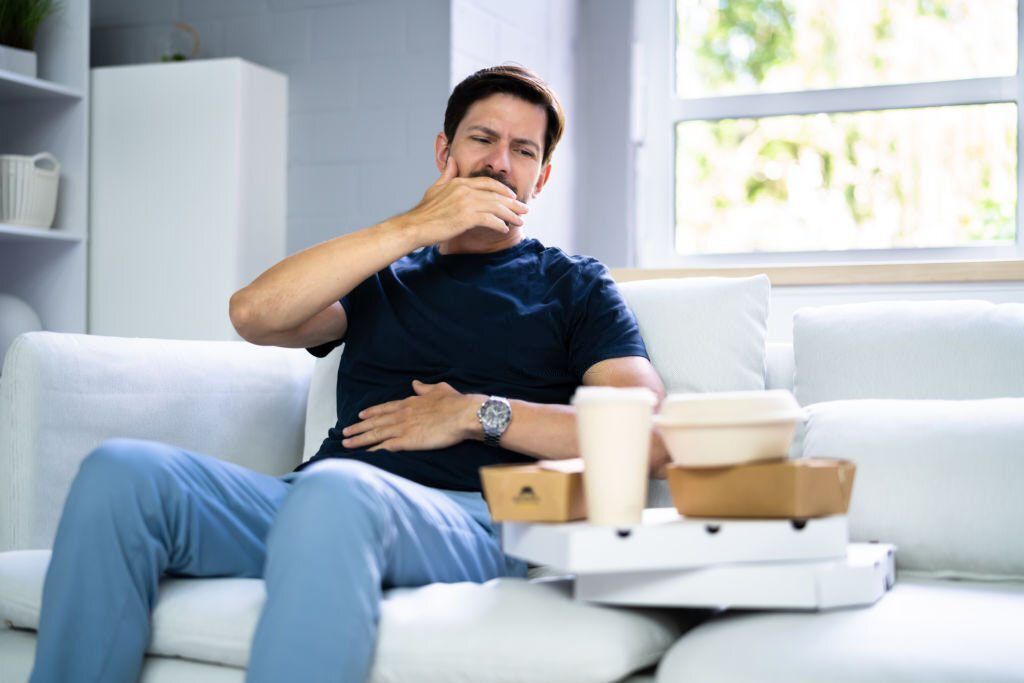 Sleep deprivation can have significant effects on the gastrointestinal system, leading to various digestive issues and discomfort. The relationship between sleep and the gut is intricate, and disruptions in sleep patterns can disrupt the normal functioning of the (GI) tract (gastrointestinal tract).
Let's see how sleep deprivation can affect the GI system and eventually cause nausea:
Slowed Digestion: Poor sleep can affect digestion, causing constipation and bloating due to slowed GI tract motility. Not getting enough sleep can affect the communication between the gut and the brain, leading to problems like irritable bowel syndrome or making existing GI issues worse.
Imbalance in Gut Microbiota: Not getting enough sleep can change the gut microbiota, which can cause digestive problems, and inflammation, which make you more susceptible to infections.
Increased Acid Reflux: Lack of sleep nausea can cause acid reflux or GERD by increasing stomach acid. Acid reflux causes a burning feeling in the chest and throat.
Hormonal Imbalances: Lack of sleep messes with hormones that control hunger, leading to overeating, weight gain, and digestive issues.
Impaired Gut Barrier Function: Lack of sleep can harm the gut barrier, allowing harmful substances to pass through and cause inflammation and digestive issues. Make sure you get enough sleep to keep your gut healthy.
Increased Susceptibility to GI Disorders: Lack of sleep can lead to GI problems like ulcers, IBD, and IBS.
Lack of sleep can harm the digestive system causing slower digestion, slower digestion, acid reflux, and other issues. A healthy sleep schedule is crucial to support overall digestion and well-being. Seek medical advice if you experience persistent GI issues or sleep problems.
10 Alarming Symptoms Caused by Lack of Sleep
Lack of sleep with nausea can signal a serious deficit. Other symptoms may include:
Fatigue and Sleepiness
Sleeplessness can cause tiredness and difficulty staying awake, even if someone feels nauseous.
Impaired Cognitive Function
Sleep deprivation can negatively impact memory, attention, concentration, and problem-solving abilities.
Mood Changes
Sleep deprivation can contribute to mood swings, irritability, increased stress, anxiety, and even symptoms of depression.
Headaches
Sleep-deprived individuals may experience frequent headaches, especially tension headaches, due to muscle tension and increased sensitivity to pain.
Muscle Aches and Body Pain
Sleep deprivation can lead to muscle aches and general discomfort throughout the body.
Weakened Immune System
Not sleeping enough for a long time can weaken your immune system and make you more likely to get sick or infected (more prone to disease)
Increased Appetite and Weight Gain
Individuals who do not get enough sleep may notice an uptick in their hunger levels, especially for foods high in calories. This can potentially lead to an increase in weight and obesity.
Impaired Physical Performance
Sleep deprivation can hinder physical performance, leading to reduced coordination, slower reflexes, and increased risk of accidents.
Reduced Libido
Sleep deprivation may lead to a decrease in sex drive and overall interest in sexual activities.
Microsleeps
In severe cases of sleep deprivation, individuals may experience microsleeps, brief episodes of unintended sleep that can last for a few seconds, leading to a temporary loss of awareness and potential hazards.
Sleeplessness can have negative impacts on both physical and mental well-being. Address the cause of sleep deprivation and prioritize restorative sleep. Seek medical advice if symptoms persist or affect daily life.
Frequently Asked Questions (F.A.Qs)
Q: Is neck pain and nausea related?
Ans: Neck pain can cause nausea due to the nerves in the neck that are connected to the stomach. Neck pain and nausea can be caused by inner ear conditions, cervical instability, and migraines.
Q: Does pickles help nausea?
Ans: Pickles can help alleviate nausea due to their high salt content and sour taste, which make them a popular folk remedy.
Q: Is homeopathy for nausea an effective treatment?
Ans: There is no scientific evidence to support the effectiveness of homeopathy for nausea.
Q: Haloperidol is good to prevent nausea?
Ans: haloperidol nausea is often used as an effective medication to prevent and alleviate nausea and vomiting.
Q: Can allergies and nausea cause sleep deprivation?
Ans: Yes, if you have allergies, rhinitis (hay fever) can lead to sleep disturbances and nausea at the same time, and it can cause sleep deprivation.
Q: How to dertermine Haldol nausea dose?
Ans: Haloperidol dosage for nausea prevention is determined by a doctor based on age, condition, and symptom severity. It typically starts at 0.5-2mg for adults and can be adjusted as needed.
Q: Is ginger good to prevent nausea?
Ans: For centuries, ginger has been a natural remedy used to combat nausea and motion sickness, as it is known to help with digestive issues. There are various types of ginger drops available specifically for treating nausea.
Bottom Line
If you don't get enough sleep, it can cause nausea and disrupt your digestion. Additionally, it may lead to fatigue, mood swings, headaches, weakened immunity, and trouble thinking.
To help improve your sleep, you could consider trying Zelenko Z-night. However, if you're experiencing digestive issues or difficulty sleeping, it's important to seek medical advice.