---
Introduction:
In our sedentary lifestyle, we tend to ignore our healthy immune systems. We eat junk food, do no exercise, and fill up our life with more stress. Even we forget that our bones and muscles are getting older, and they need care. We start to realize the importance of our bones and immune systems when we fall sick.
Before falling sick, we should maintain a healthy lifestyle. We can add vitamin D3 supplements to our diet chart to improve our health, bone, muscles, and immune system. Remember, if our bones and immune system don't function well, we will be failed to do any work.
This article intends to provide all the necessary information about the top 3 vitamin D3 supplements. Let's start.
What is Vitamin D?
Do you know that vitamin D is called the sunshine vitamin? It is one of the unique vitamins for the human body. The primary responsibility of vitamin D is to absorb calcium and phosphate into the body. It increases the density and growth of mussels, teeth, and bones. Lacking Vitamin D can cause a lot of physical problems. From an infant to an adult, everybody needs a proper amount of Vitamin D. In the sunshine vitamin you can have it in two different forms. Vitamin D2 and Vitamon D3. This article will discuss the benefits of Vitamin D3, its necessity, and the three best vitamin D3 supplements for 2023.
What Are The Functions Of Vitamin D3 Supplements?
The primary purpose of vitamin d3 supplements is to help your body soak calcium, as calcium is the main ingredient that helps to make your bone strong. Your doctor can suggest you have a vitamin d3 supplement if you have vitamin d3 deficiency. Many people need to take vitamin d3 supplements, such as older people, infant babies, people who have darker skin tones, or who have liver disease. One can easily understand the signs of vitamin D deficiency, and Your body will give a signal.
The Main Causes Of Vitamin D Deficiency
It is simple. Vitamin D deficiency means your body doesn't get enough vitamin D. the lack of vitamin D causes issues directly to your bones and muscles. The two main reasons for vitamin D deficiency are:
Not getting enough vitamin D from food or sunlight.
You are eating vitamin d enriched food, but somehow, your body can't absorb the calcium.
Also,
Your body is going through a specific medical condition.
There is some environmental fact involved. In the winter seasons, people can't get enough sun exposure to their skin. Which eventually instigates vitamin d deficiency.
The Source Of Vitamin D3
There are three primary sources available for getting enough vitamin D. Natural way and medication.
Getting enough sunlight is an excellent source of vitamin D
Nutritional food
Supplements
Vitamin D is the sunshine vitamin because you can get enough of it if you get regular exposure to sunlight. However, some specific food is also full of vitamin D.
Such as fatty fish, beef liver, cheese, mushrooms, and eggs. The fortified foods also contain vitamin D. Milk, cereals, juice, dairy products, soy drinks, and many more.
There are many multivitamins tablets and supplements that contain vitamin D3. You can have those supplements in pills, supplement powder, or liquid form.
Symptoms Of Vitamin D3 Deficiency
The common symptoms of vitamin d deficiency are muscle pain, fatigue, or mod sewing. It started with the feeling of weakness. And gradually leads to other symptoms. The main symptoms are
Fatigue
Lack of sleep
Bone and muscles pain
Loss of hair
Weakness
Not feeling energetic
Frequent sickness
Depression
Skin color change
Usually, people tend to avoid the initial symptoms. But it will cause more health issues if you ignore it.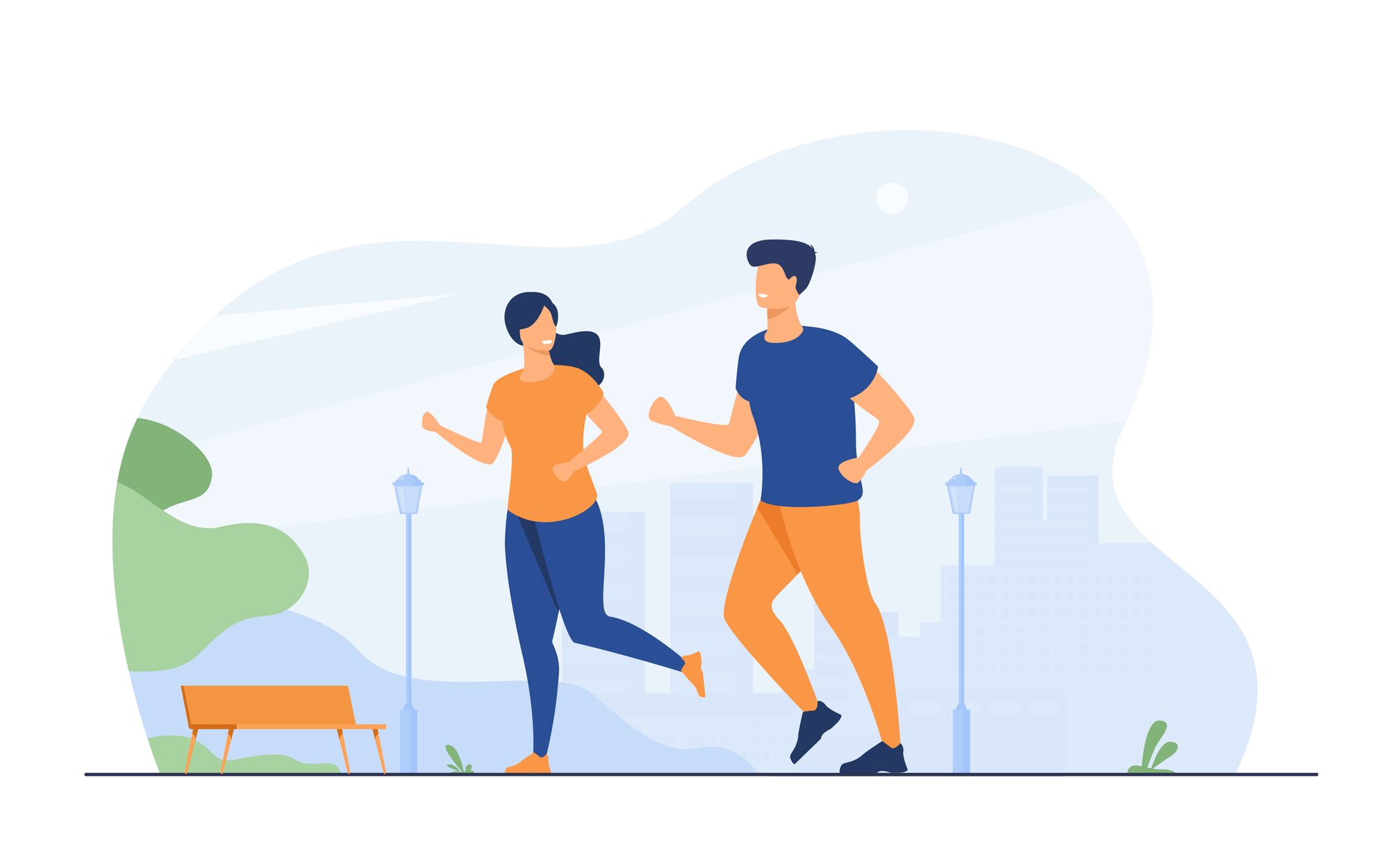 Benefits Of Taking Vitamin D 3 Supplement?
This article has already told you about what health issues one should consider taking vitamin d3 supplements. There are immense benefits and uses for vitamin D3 supplements. Here, I will discuss some of the main benefits:
Increase The Bone Density
Bond density depends on the calcium we are taking. If our body doesn't absorb enough calcium, our bones weaken. Vitamin d3 supplement helps our body to sock all the calcium, and it helps to release bone pain, muscle pain, and joint pain. Regular taking of vitamin d3 supplements can decrease the chance of getting early osteoarthritis.
Boost The Immune System
Vitamin d3 supplement is one type of immune support product. Our body's immune system is responsible for staying fit and healthy, and this supplement helps fight viruses, infections, and fungi so that we don't fall sick frequently.
Mental Health Develop
In the winter season, most people in the USA feel depressed, sad, and unwilling to do any work. This is called a seasonal affective disorder. Generally, this happens for the lacking of proper sunlight and less exposure to the sun. For developing mental health in the winter season, it is advised to take a vitamin d3 supplement.
Helps In Strengthening Oral Health
Calcium is essential for oral health also. From our childhood, we have learned that for strong teeth, we need calcium. Vitamin d3 supplement improves the quality of teeth. For having strong teeth and oral health, vitamin d3 is a wonder.
Improves Lung Function
Through the lungs, calcium can be absorbed in the body. The supplements help in functioning our lungs effectively. Vitamin d3 is related to defeating many respiratory diseases, and hence, it enhances the activity of our lungs function.
Increase Hair Growth
You will lose hair before age if your body doesn't get enough calcium. Vitamin D3 supplements can decrease hair fall rates by providing enough vitamin D to your hair root.
Reduce The Risk Of Osteoporosis
As vitamin D3 helps you to make strong bones. It reduces the risk of Osteoporosis, which leads to bone fractures and joint pain. These supplements help to make you strong enough so that you can lead a healthy and fit body.
Control Blood Pressure
If the body can not get enough vitamin D, it links to high blood pressure and other heart diseases. Some people have hypertension due to a lack of vitamin D3. Regularly taking supplements of vitamin D3 will help you to control your blood pressure.
Besides these primary benefits, vitamin D3 supplements can improve your brain function growth, reduce the risk of type 2 diabetes, and helps to reduce weight loss. We should take pure vitamin d supplements to boost our health and immunity.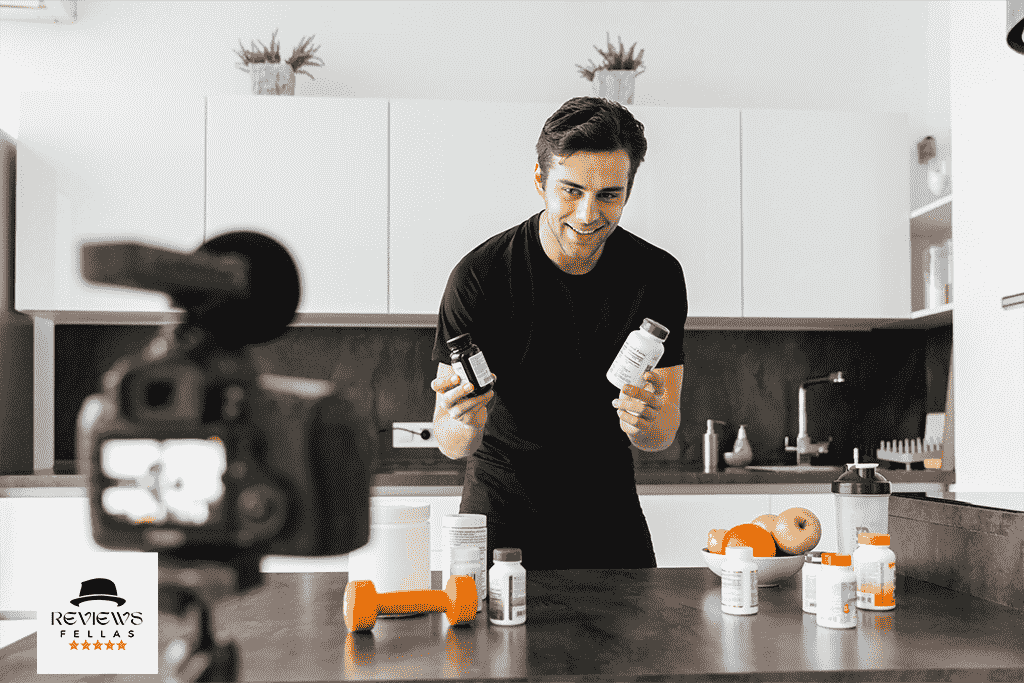 Top 3 Best Vitamin D3 Supplements
It is time to discuss the top 3 best vitamin D3 supplements. There are plenty of vitamin d3 supplements on the market. But are all the supplements good for your health? Not necessary. As we have to digest those supplements, we have to check the main features of those supplements.
You need clarification on seeing that variety. Also, there are a plethora of vitamin D manufacturers in the USA. Everybody claims the same benefits. But are they really? Here, this article will tell you what you should purchase without any confusion.
1. Viva Naturals Vitamin D3 Supplement - 360 Softgel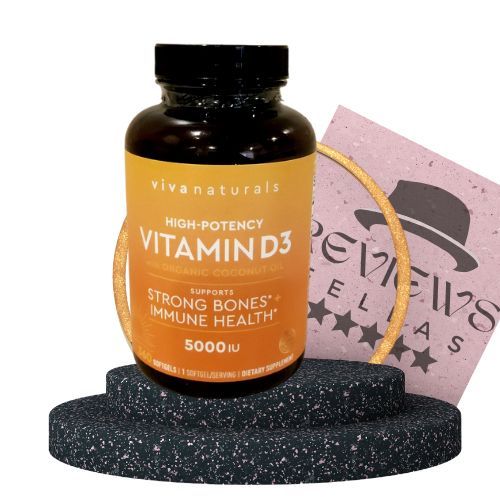 Viva Naturals Vitamin D3 Supplement
Viva Naturals' Vitamin D3 5000 IU soft-gels promote healthy vitamin D levels, which aid in the body's absorption of calcium and phosphorus.
Check Price on Amazon
Viva naturals vitamin D3 is one of the best vitamin supplements in the USA. They come in soft gel forms. Which is easy to swallow. The high potency doses of 5000 IU are made with organic coconut oil. Vitamin D3 gets absorbed with coconut oil more quickly. If you have long-term vitamin D deficiency, you should try this supplement.
It is not an organic vitamin d supplement. The coconut oil used in this supplement is only organic. 360 pieces are given in one bottle for one year. You can take this in every season of the year. In the USA, it is important to take the sunshine vitamin regularly. After a few days, you can see the positive impact.
It improves physical health over time. You will notice that your bones and mussels are getting strong day by day. Also, it helps to protect your teeth.
The main sources of vitamin D3 supplements in viva naturals are Kosher and Quali-D. Which comes from sheep lanolin. That is why it is called one of the best pure vitamin D supplements. However, it is not suitable for vegans. Make sure you don't take this supplement as a vegan vitamin D supplement.
Features With Benefits:
The main features of viva naturals' vitamin D3 supplement are as follows:
For boosting your daily energy, one soft gel of vitamin D3 is enough;
It is non-GMO, soy-free, and gluten-free;
One of the best vitamin D manufacturers in the USA;
Contain no artificial colors or smell;
Organic coconut oil soft gel capsules contain halal Gelatin, Glycerin, and purified water.
Added no sweetener.
If you are looking for vitamin D powder, then you are probably searching for easy swallowing. This mini soft gel vitamin D supplement will be the proper choice. As it is easy to consume.
Is Viva Natural a good brand? Based on the research of best-selling records and authentic Viva Natural reviews, you may purchase this.
2. Nature Wise Vitamin D3 Supplement - Soft Gel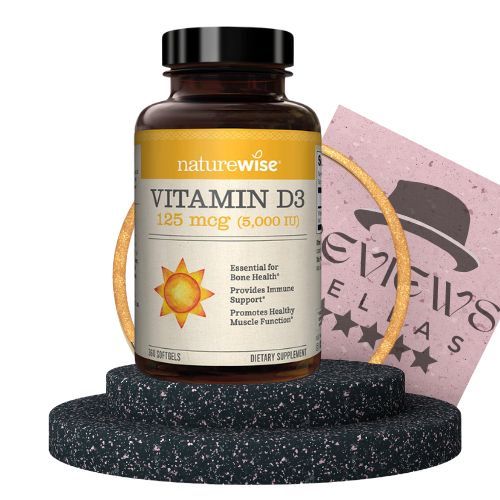 Nature Wise Vitamin D3 Supplement
This ground-breaking vitamin D3 supplement helps the body's capacity to maintain strong bones and optimum fitness.
Check Price on Amazon
The NatureWise vitamin D3 supplement is an immune support dietary supplement. It is an all-natural brand. That ensures high potency vitamin D3 in soft gel form. They use organic olive oil, which is indeed a healthy fat source that helps to support your immune system more effectively.
To provide organic immune support, the NatureWise vitamin D3 supplement uses organic olive oil. If you are searching for a liquid vitamin D supplement, then it is hard to find. Instead, it would be best if you used this supplement. The soft gel capsules are so thin that they may melt in scorching sunlight.
In the summer season, the capsules may get attached to each other. That doesn't affect the quality of the capsules. At room temperature or in a cool place, they get into a normal position.
People who are allergic to dairy products can easily consume this supplement. It is non-dairy. NatureWise brand promotes natural ingredients. They are made from nature. Professional researchers put their 100% into product development.
The main target of NaturWise is to provide a healthier lifestyle to its consumers.
Features With Benefits:
The main features of NatureWise vitamin D3 are as follows:
Pure vitamin D supplement with gluten-free and non-GMO. Tested by a third party;
Can be available in 5000 IU, 1000 IU, 2000 IU, and 400 IU of vitamin D3 supplement soft gel capsules;
Extra virgin oil, halal gelatin, Glycerin, and purified water used as ingredients;
Free from wheat, gluten, dairy, corn, soy, eggs, tree nuts, peanuts, and fish;
Organic immune support as nature;
Increase mental happiness in the winter season.
Suppose you like nature-made products or support natural products. Then you try NatureWise vitamin D3 Supplement. While researching the NatureWise vitamin D3 reviews, we found that most of the users love this supplement. They find it very efficient in developing mental and Physical health. It is counted as one of the best vitamin D manufacturers in the USA. We recommend purchasing this.
3. BioSchwartz Vitamin D3 Natural Dietary Supplement - Soft Gel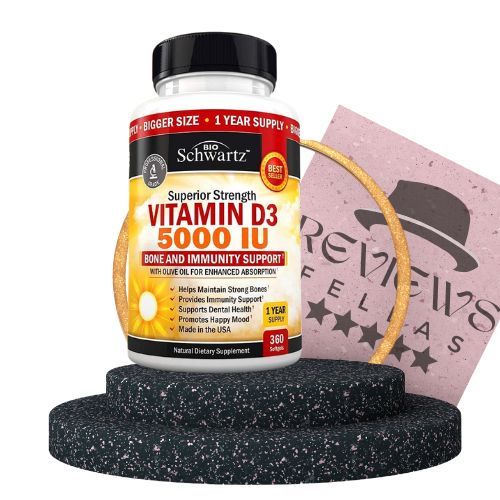 Bio Schwartz Vitamin D3 Natural Dietary Supplement
BioSchwartz superior strength vitamin D3 5000 IU supports a healthy immune system by allowing it to work at peak levels to defend you all year.
Check Price on Amazon
For immune support dietary supplements, Bio Schwartz is one of the best brands in the USA. This vitamin D3 Supplement soft gel is recommended by doctors. It is developed with the help of professional health care. Unlike most of the others manufacturers of vitamin D in the USA, doctors suggest this brand takes in a prescribed way.
This supplement is made with quality full ingredients. You can achieve optimal immune support from Bio Schwartz vitamin D3 Supplement. These ultra-smooth soft gel capsules are easy to swallow and provide strength to your heart, bones, teeth, and mussels.
The supplement is formulated with organic olive oil. That ensures the perfect absorption of calcium to your body. It contains no preservatives, chemicals, or any kind of artificial ingredients. The brand strictly follows the GMP guidelines.
This supplement contains Bovine Gelatin, which is not suitable to call this is a vegan vitamin D3 supplement. However, it is an eggs and milk-free supplement. Adults in the U.S. can easily take this supplement as an immune support dietary supplement.
If you are wondering where is Bio Schwartz manufactured, then you can search their website as well. It is proudly manufactured in the USA.
Features With Benefits:
The main features of this supplement are given below;
It is formulated with pure organic olive oil. Which can provide one kind of organic immune support;
No GMOs, gluten, soy, milk, fish, egg, or peanuts are included. No artificial sugar or flavors are contained. Easy to digest for people who have diabetes;
Reviewed by a licensed physician that makes this vitamin D3 supplement one of the trustworthy supplements;
Allergic free as it contains all of the natural ingredients.
The main attractive point of the brand is that they have a great professional research team. That allows you to feel confident. You can purchase this, and after a few days, you will feel the difference. The latest technology they use to make this supplement is a pure vitamin D supplement.
Although, we have researched a lot to find the best 3 vitamin D3 supplement for you. However, we also suggest you consult a doctor before taking any supplement.
Frequently Asked Questions (FAQs)
There are some questions people always ask about Vitamin D. We also researched some of those questions.
Does Vitamin D3 Have Any Side Effects?
Usually, people don't get any side effects from vitamin D3. It is safe for your health. If you have a deficiency, then you should try vitamin D3 supplements. However, if you take too many doses of this supplement, you may face some health issues. This can leads to weakness, vomiting, dry mouth, etc. Calcium in the body should be in a proper quantity. A high level of calcium is also not good for health.
We recommend consulting with a Doctor. Doctors can diagnose the level of calcium in your body. Based on the report, they will suggest you the proper quantity of vitamin D3 to take.
What Is Better, Vitamin D2 Or D3?
Some research claims that Vitamin D 2 is less effective in boosting the immune system. On the other hand, Vitamin D3 can do the job more effectively and fast.
However, both are forms of Vitamin D. The sources of vitamin D2 and D3 are different. Vitamin D3 comes from animal-based food. At the same time, Vitamin D2 comes from plant-based food.
Can Vitamin D Supplements Delay Your Period?
Not necessarily. Usually, women with regular menstrual cycles don't have any problems when they take vitamin D supplements. But, women with low levels of vitamin D in their bodies might face an irregular cycle of periods.
It is not found that vitamin D supplements delay the cycle of the period. It actually depends on the body condition one can have. If they are going through some medication already, then they might get any problem with the menstrual cycle. Besides, low level of Vitamin D creates issues in the process of the period. To regulate the rotation of the period, one should take Vitamin D supplements.
What Vitamin Is Known As The Sunshine Vitamin?
Vitamin D is called the sunshine vitamin. As we get vitamin D from direct sunlight, it is named "Sunshine Vitamin."
One of the great natural sources of getting vitamin D is the Sun. Regular exposure to sunlight helps us get pure vitamin D. Those who go out regularly in the daytime don't need extra options to intake vitamin D.
Can A Person Have Too Much Vitamin D?
Yes. A person can have too much vitamin D, But it will create issues for health. When a person takes too much vitamin D, the body will create different problems. Such as nausea, vomiting, weakness, and others. Vitamin D supplements should only be taken when your body has Vitamin D deficiency. To increase vitamin D levels, one should take vitamin D supplements.
What Are Foods That Are High In Vitamin D?
There are some animal-based food and plant-based food available that contains a high level of vitamin D. In animal-based food, fish like tuna, mackerel, and salmon are high in vitamin D.
Eggs, and milk also contain a good source of vitamin D. In plant, Mushroom is a fine source of vitamin D. There are some fortified meals, like breakfast cereals, where you can get vitamin D.
Does vitamin D help the skin?
Yes, vitamin D helps to improve your skin quality. It helps to protect your skin from getting infections from any injuries. Also, vitamin D is suggested to improve the irritation of the skin, repairing damaged skin and stretch marks.
Conclusion
To this extent, you probably get to know all factors of vitamin D3 supplements. Our body needs vitamin D, and vitamin D3 supplement is the best solution to get the vitamin. Though we know that we can get vitamin D from natural sources, our lifestyle doesn't allow us to take this opportunity. Hence, we need to take supplements to get a healthy life.
Bones, muscles, teeth, and immune systems are the most important things to maintain. The more these physical options get weak, the more we lose the happiness in our life. To maintain a steady life, we don't need to do any hurdles. Vitamin D3 supplements are there within reach of our hand. We can easily order them. And start taking them. One soft gel vitamin D3 supplement in a day will make our body fit and strong.
Without wasting more time, go and check the available option from these three best vitamin D3 supplements. In 2023, we need to start fresh. And nothing can be more important than a healthy body and soul. Let's start the year by providing our bodies with a perfect vitamin D3 supplement.